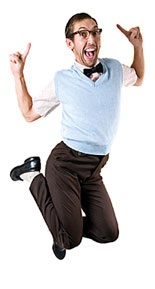 We're a hosting, streaming, and data center company staffed by friendly programmers, systems administrators, and support technicians who truly like to help.
We'll answer your calls and e-mails quickly. We'll provide you and your programmers with expert advice. We'll block spam from reaching your inbox. We'll protect your data from bad guys and ensure that your services are always very, very fast.
Unrivaled phone and email
support
Blazing Speeds
and
Unreal Uptime
Super green
& Secure Data Center
Free CMS installs:
Wordpress
,
Joomla
, etc.
Staffed by
security specialists
Award winning spam and virus protection
Free site and email
migrations

AJAX
webmail
with no advertisements
Clean, mobile-first
control panel
Best
referral program
in the business
Free
domain registration
with hosting
Free incremental backup & SSL
And our answer is always yes.
Hosting
Fast, Easy, Reliable
PHP 5.5+ / MySQL 5.5+
Free software installs
Unlimited domains
Unlimited bandwidth
Unlimited disk space
Awesome spam protection
No Setup Fees
See all hosting plans
$8.95 and up
Virtual Servers

CentOS Virtual Servers
512 MB RAM (burstable to 1GB)
25 GB drive space
CentOS Specialists
Optimized for hosting
Upgrades provided in seconds
Free, full-OS backups
Full server management!
See all plans
$19.95 and up
Hosted Cams

Live Streaming & Huge Resolution
Best rates on the Internet!
Customizable Player
No Ads on Player
No plugins needed
Compatible w/ all browsers & phones
Pan, tilt, zoom user controls
View the details
$24.95 and up
Dedicated Servers

Ripping Hardware
Quad, Dual Quad, up to 16 CPU machines
PCI compliant data center
Fiber cut
proof
network
BGP coast-to-coast routing
Free phone and hands-on support
Visit/Hug your machine any time
See dedicated plans
$99.95 and up